Webinar
Practical Aspects of Admissibility and Assessment of Evidence in War Crimes Trials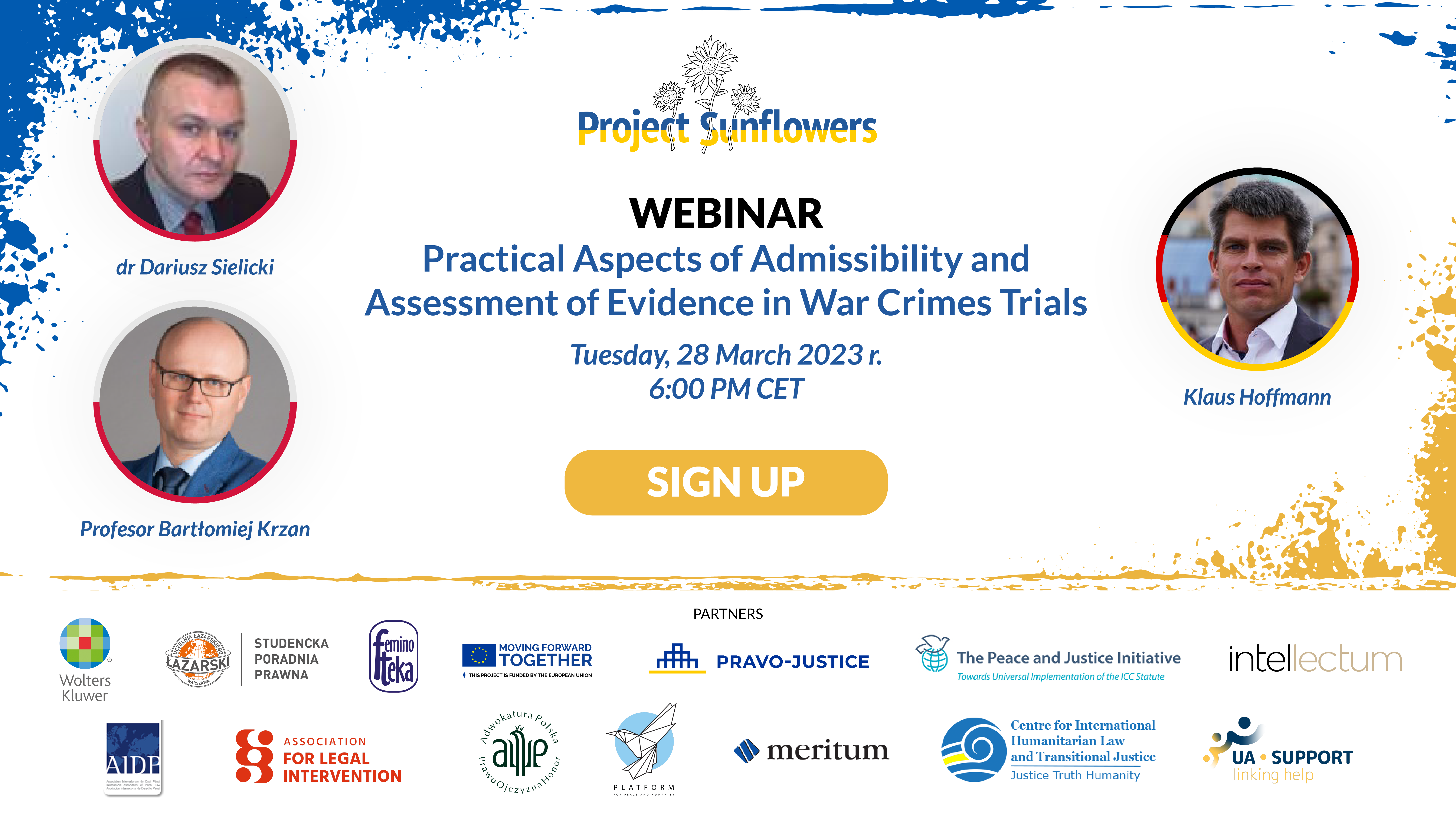 On 28 March, 2023, the Project Sunflowers, the Pravo-Justice Project and The National School for Judges of Ukraine organized the informative session on Practical Aspects of Admissibility and Assessment of Evidence in War Crimes Trials.
The moderator of the webinar was Anna Adamska-Gallant, Ph.D., former international judge in Kosovo, head of the Judiciary Component of EU Pravo Justice in Ukraine. Three papers were presented on the meeting. Professor Bartłomiej Krzan of the University in Wrocław, presented the first speech on the history and development of rules of admissibility of evidence before international criminal courts – beginning by the Nuremberg Military Tribunal, through ICTY and ICTR, focusing finally on the rules existing in the procedure before the ICC. The next speaker Dariusz Sielicki, PhD, former international judge in Kosovo, presented a comprehensive analysis of practical problems of admitting evidence in cases of international crimes, such as war crimes and crimes against humanity, on the example of problems that appeared – and had to be solved – before the Supreme Court of Kosovo, giving special attention to problems concerning digital evidence and the way they should be evaluated when it comes to credibility and relevance. The last speaker, Klaus Hoffmann, advisor to the Ukrainian General Prosecutor's Office on the prosecution of war crimes, developed the issues of practical problems of admissibility of evidence in core crimes trials.
The webinar was conducted in English with simultaneous translation into Ukrainian. Please, watch the abstract of the webinar.