Webinar
Admissibility of Exercising Jurisdiction by the International Criminal Court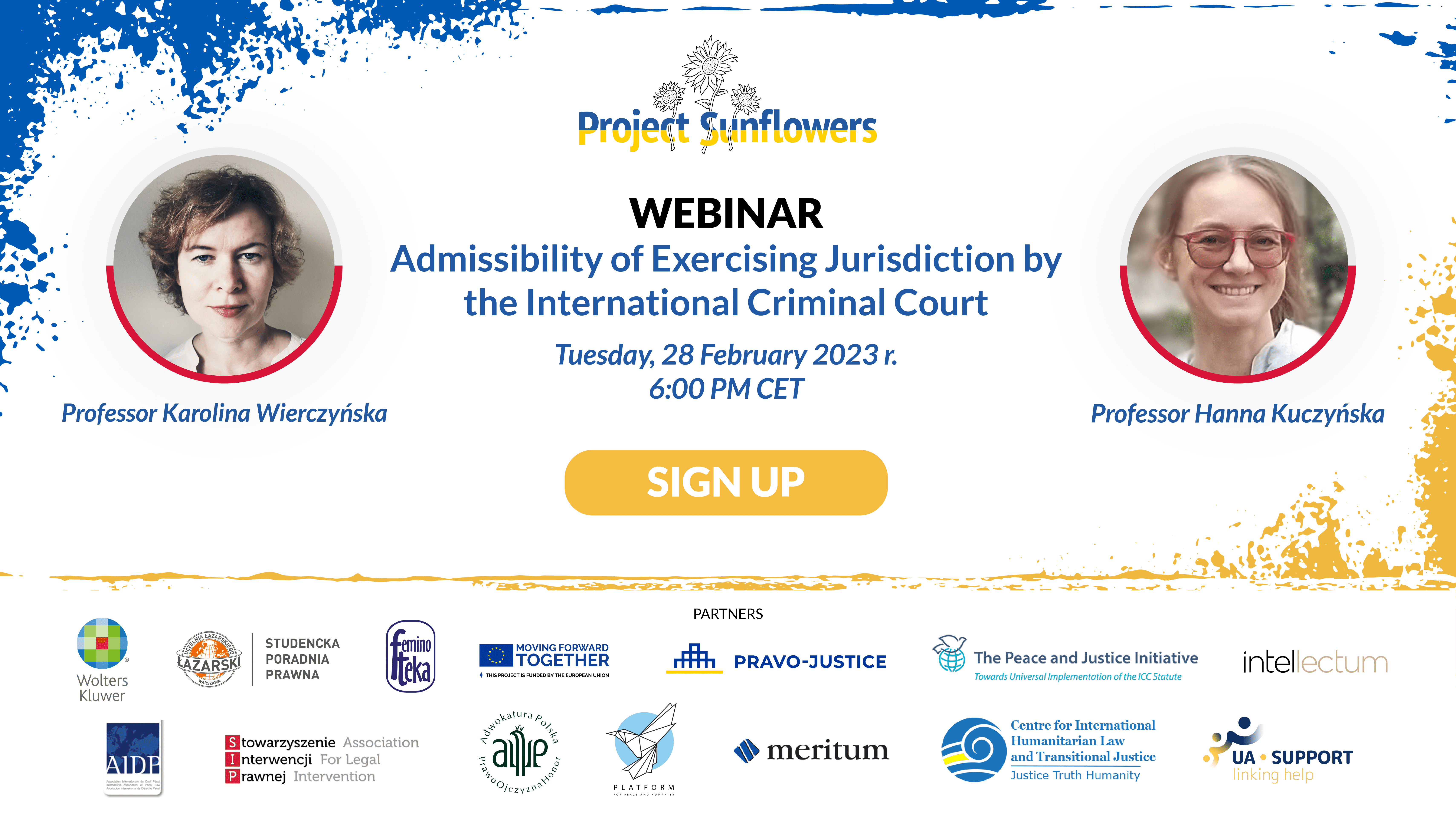 On 28 February, 2023, the Project Sunflowers, the Pravo-Justice Project and The National School for Judges of Ukraine organized the webinar on Admissibility of Exercising Jurisdiction by the International Criminal Court.
The introduction was given by Natalia Shuklina, who represented the National School for Judges of Ukraine. The moderator of the webinar was Professor Paweł Wiliński, Chairman of the Foundation Sunflowers Council and Judge of the Criminal Chamber of the Polish Supreme Court, who underlined: "Our goal is to bring those responsible for committing crimes to justice. Therefore, the main question is how to effectively prosecute war crimes, crimes against humanity, crimes of aggression? Which court should hear these cases? Of course, it is worth mentioning the Ukrainian national judicial system. However, when it comes to large-scale crimes, the courts known from the history of international criminal justice come to mind". Two papers were presented on the meeting. Professor Karolina Wierczyńska began her presentation with the idea of complementarity, which is about finding a balance between the interests of states and the interests of global justice, and then focused on discussing the premises of admissibility, attempting to show that the ICC has already formulated certain criteria for assessing State action. The speaker critically analysed not only the criteria of complementarity (in particular whether the state is acting to prosecute a case), but also other criteria relating to the seriousness of the case. Professor Hanna Kuczyńska, the next speaker, looked at the problem of complementarity of ICC jurisdiction from a practical perspective, analysing the procedure by which the ICC Prosecutor decides whether complementarity should prohibit prosecution before the ICC. Complementarity is thus assessed at two successive stages of proceedings before the ICC: the initiation of an investigation and the issuance of an arrest warrant, when a specific perpetrator is identified and specific criminal acts are indicated. Professor Kuczyńska also presented the potential implications of the existence of national immunities for assessing whether the 'impossibility to prosecute' condition of Article 17 of the Rome Statute is met. Her presentation also dealt with the issue of challenging the admissibility of a case – by a State Party, the ICC Prosecutor or an accused person, or against the jurisdiction of the ICC.
The webinar was conducted in English wit simultaneous translation into Ukrainian. This webinar wasn't recorded.