Webinar
Massive Trauma and the Healing Role of Reparative Justice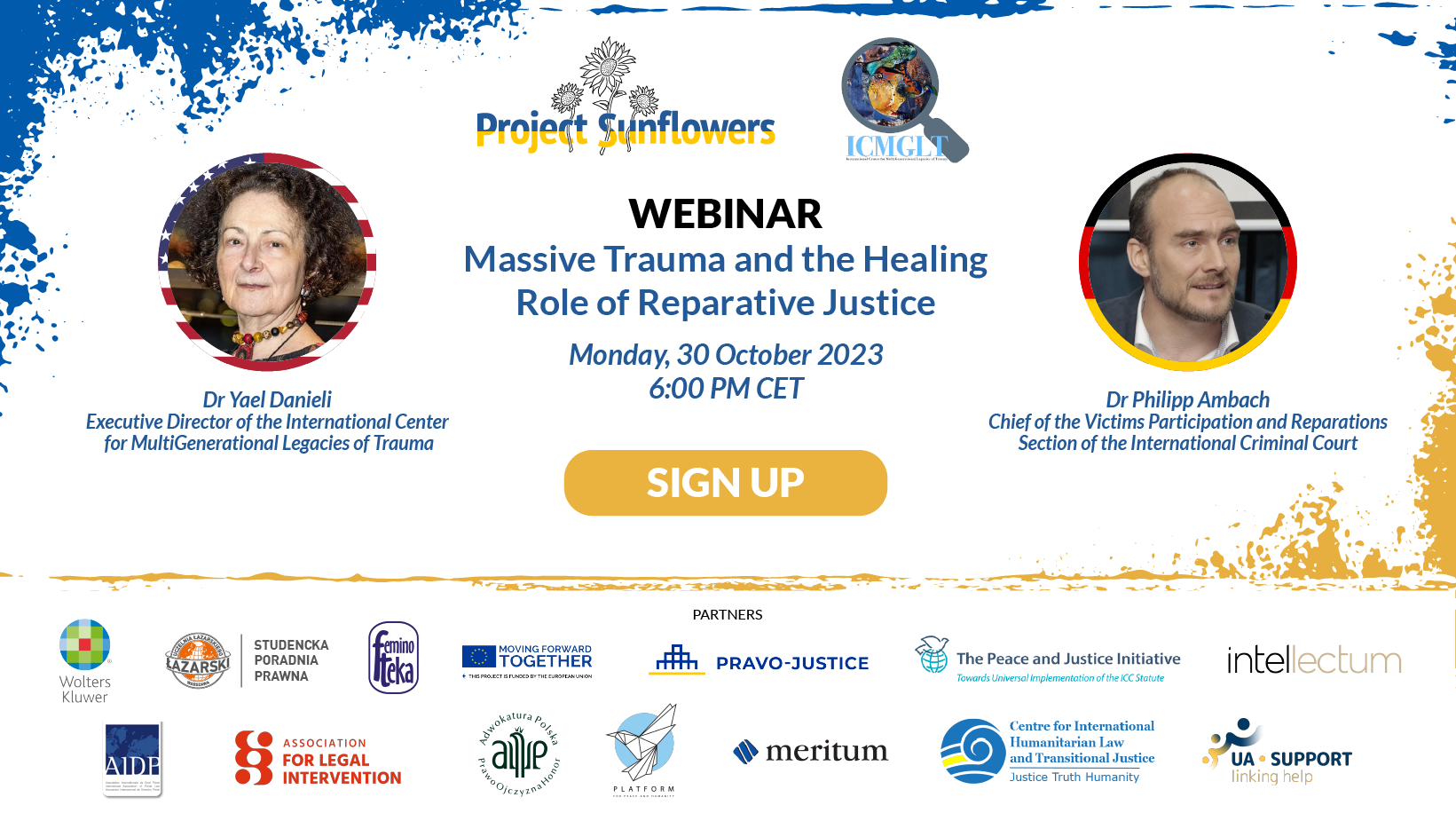 Please, register and join our webinar on Monday, October 30, 2023, at 18:00-20:00 CET, that this time focuses on Massive Trauma and the Healing Role of Reparative Justice here. This will be the first in a series of webinars organised by the Project Sunflowers in cooperation with the International Center for MultiGenerational Legacies of Trauma
First in a series, this webinar emphasizes the need for a multi-dimensional, multi-disciplinary, integrative framework for understanding and engaging with victim/survivors of massive trauma and its aftermath. It will first describe how victim/survivors, their families and communities are affected by mass atrocities, their reactions, concerns, and needs for reparative justice primarily from the psychosocial perspective, considering reparative justice a necessary component among the post-trauma healing processes. Reparative justice acknowledges fully that it is in an ongoing relationship with victim/survivors and views not only the outcome but, sometimes even more importantly, its process as crucial to their experience of justice as part of their healing process from the massive trauma and tragedies they have endured. The webinar will then examine victim/survivors' actual experiences with/in the international criminal justice system.
The speakers for this unique webinar will be dr Yael Danieli and dr Philipp Ambach, and the meeting will be moderated by dr Marina Lostal.
Dr. Yael Danieli is a clinical psychologist, traumatologist, victimologist and psychohistorian. Dr. Danieli is Founder, Executive Director and Senior Representative to the United Nations of the International Center for the study, prevention and treatment of MultiGenerational Legacies of Trauma; Director, Group Project for Holocaust Survivors and their Children and Past-President, International Society for Traumatic Stress Studies. She has participated in creating all key international law instruments on behalf of victims' rights and optimal care.
Dr Philipp Ambach is the Chief of the Victims Participation and Reparations Section at the International Criminal Court (ICC). Dr. Ambach worked as a legal adviser to the Judges of the Appeals Chamber at the International Criminal Tribunals both for the former Yugoslavia and for Rwanda. A guest lecturer in international criminal and humanitarian law at various legal institutions, he has published several academic papers in international criminal law. 
Dr Marina Lostal is a Senior Lecturer at the School of Law of the University of Essex (UK). Dr. Lostal specialises in the rights of victims in international criminal law, the protection of cultural heritage in armed conflict, and animal law; fields where she has published widely. She has worked as a consultant for several organisations such as the ICC, UNESCO, Geneva Call and the Colombian Special Jurisdiction for Peace.  
The webinar will be conducted in English and simultaneous translations into Ukrainian will be available.
To take part in the webinar, please, register here:  https://us06web.zoom.us/webinar/register/WN_ED0WV3qxS660Z9D7NW9tyg#/registration