Webinar
Join the ICC as an Independent Consel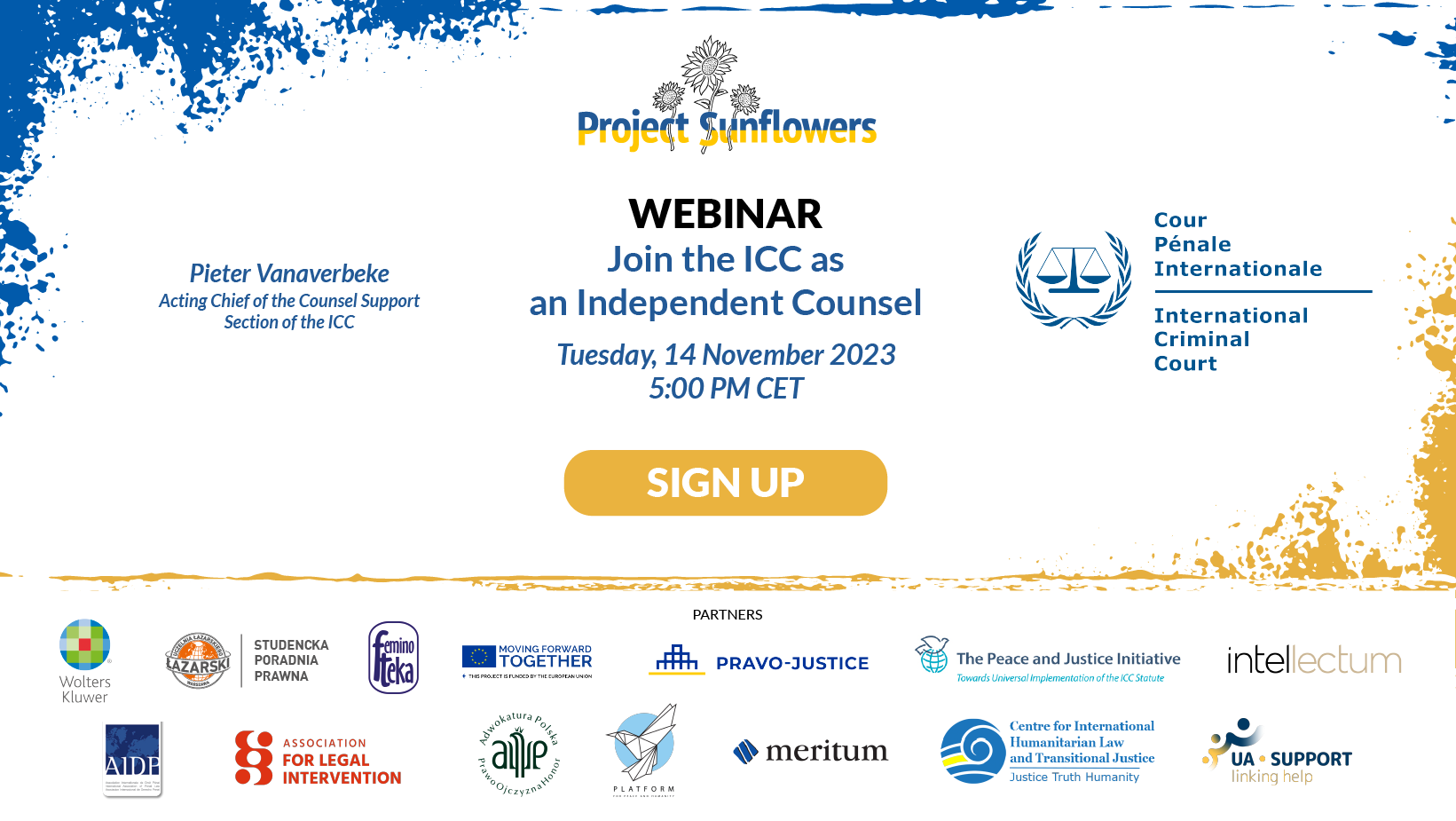 Register and join our webinar on Tuesday, 14 November 2023, at 17:00 CET. This time Pieter Vanaverbeke, acting chief of the Counsel Support Section (CSS) of the International Criminal Court (ICC) will encourage every lawyer to join the ICC as independent legal counsel here.
 The webinar is a joint event of the Project Sunflowers and the EU Pravo-Justice Project.
Pieter Vanaverbeke is responsible for, inter alia, the implementation and application of all aspects of the ICC's Legal Aid Policy as well as the 360 degrees service provision to all Counsel (and team members) active before the Court. Before moving to the CSS in 2015, he has been working at the Court since 2005 in various functions and sections, including the position of Legal Coordinator in the Office of the Director of the Division of Judicial Services and has been deployed to situation countries (Democratic Republic of the Congo, Republic of Uganda) for a prolonged duration (from 2006 – 2009). Pieter Vanaverbeke holds a Master's Degree in International and National Public law. 
The CSS is in charge of centralizing and coordinating all assistance provided to counsel by the Court; and also provides logistical and administrative assistance. The Section also manages the Court's programme of legal aid for indigent defendants and victims and provides administrative assistance to the Court's Disciplinary Organs. The CSS is responsible for the following functions, among other: 
a

ssisting persons entitled to legal assistance under the Statute and the Rules to secure such assistance;

 

managing the Court's programme of legal aid for indigent defendants and victims;

 

maintaining the Court's Lists of Counsel, Assistants and Professional Investigators;

 

rendering logistic and administrative services to all Counsel acting before the Court, their team members and representatives of states, in order to facilitate their activities before the Court

facilitating the Court's Disciplinary Organs' for counsel elections and appointments as well as the process of designation of members of the Advisory Committee on Legal Texts;

 

interacting with Universities and other

external stakeholders relating legal profession in order to increase awareness and understanding of the work of the Court;

 

coordinating and providing relevant internal and external training events for Counsel.

 
The webinar will be conducted in English and simultaneous translations into Ukrainian will be available.

To take part in the webinar, please, register: https://us06web.zoom.us/webinar/register/WN_6–azLxCRDejcTLNdQkW0w#/registration